Get Professional Roof Moss Removal Services in Portland from IBEX Roof
Moss growth on roofs is a common problem in the Pacific Northwest, including Portland. It not only looks unsightly but can also damage your roof's integrity. If left untreated, moss can cause structural damage and shorten your roof's lifespan. Removing moss from your roof is a critical step in maintaining your roof's longevity and preventing further damage.
At IBEX Roof, we understand the importance of keeping your roof moss-free. We offer professional roof moss removal services in Portland, helping homeowners maintain the integrity of their roofs. Our team of professionals has the necessary equipment and knowledge to safely remove the moss from your roof.
What is Moss and Why is it a Problem?
Moss is a type of plant that grows in damp and shaded areas. It thrives in Portland's cool and moist climate and can quickly take over a roof, especially if the roof is shaded by trees. Moss can be a problem for several reasons:
It can retain moisture, which can lead to water damage and leaks.
It can trap debris, such as leaves and twigs, which can clog gutters and lead to water damage.
It can cause shingles to lift, crack or break, which can lead to more significant damage.
How to Identify Moss Growth on Your Roof
The first step in removing moss from your roof is to identify where it's growing. Moss typically grows in shaded areas of your roof, such as on the north-facing side or in areas covered by trees. Here are some signs of moss growth:
A green, fuzzy layer on your roof.
Dark stains or streaks on your roof.
Raised or curled shingles.
If you notice any of these signs, it's time to take action and remove the moss from your roof.
What are the Dangers of Leaving Moss on Your Roof?
While moss growth may seem like a minor annoyance, it can actually cause significant damage to your roof if left untreated. Here are some of the dangers of leaving moss on your roof:
1. Moss can cause water damage
When moss grows on your roof, it can trap moisture and prevent water from draining properly. This can lead to water damage to your roof, and ultimately, your home's interior. Water damage can be expensive to repair and can cause other problems, such as mold growth.
2. Moss can decrease your roof's lifespan
Over time, moss can cause damage to your roof shingles or tiles, causing them to deteriorate faster than they would otherwise. This can result in the need for a roof replacement sooner than expected, which can be a significant expense.
3. Moss can be a safety hazard
Moss can make your roof slippery, especially when wet. This can make it hazardous to walk on your roof, which can be dangerous for anyone attempting to perform maintenance or repairs.
How to Remove Moss from Your Roof
Removing moss from your roof is a multi-step process that requires some tools and knowledge. Here are the steps to safely and effectively remove moss from your roof:
Step 1: Safety First
Before you start removing moss from your roof, it's important to take safety precautions. Make sure you have a sturdy and secure ladder, wear slip-resistant shoes, and use a safety harness if possible. If you're not comfortable climbing on your roof, it's best to call a professional.
Step 2: Clear Debris
Clear any debris from your roof, such as leaves and twigs, before you start removing moss. This will help prevent debris from getting trapped in the moss and clogging your gutters.
Step 3: Brush Off Moss
Use a stiff-bristled brush to gently brush off the moss from your roof. Be careful not to damage your shingles or remove the protective granules from your shingles. Work in small sections, starting at the top of your roof and working your way down. Use a leaf blower to remove any loose moss or debris.
Step 4: Apply Moss Killer
Apply a moss killer to your roof, following the manufacturer's instructions. Most moss killers are applied with a garden sprayer or a hose-end sprayer. Be sure to wear protective clothing and goggles when applying the moss killer, and avoid spraying it on plants or other areas that could be damaged.
Step 5: Rinse and Repeat
After the moss killer has had time to work, rinse your roof with a garden hose or pressure washer. Be sure not to use too much pressure when using a pressure washer, as this can also cause damage to your roof.
Step 6: Prevent Future Moss Growth
To prevent moss from growing back on your roof, you can take several preventative measures. For example, you can trim back tree branches that are shading your roof, clean your gutters regularly to prevent debris buildup, and install zinc or copper strips along the ridge of your roof, which can help to inhibit moss growth.
Why Choose IBEX Roof?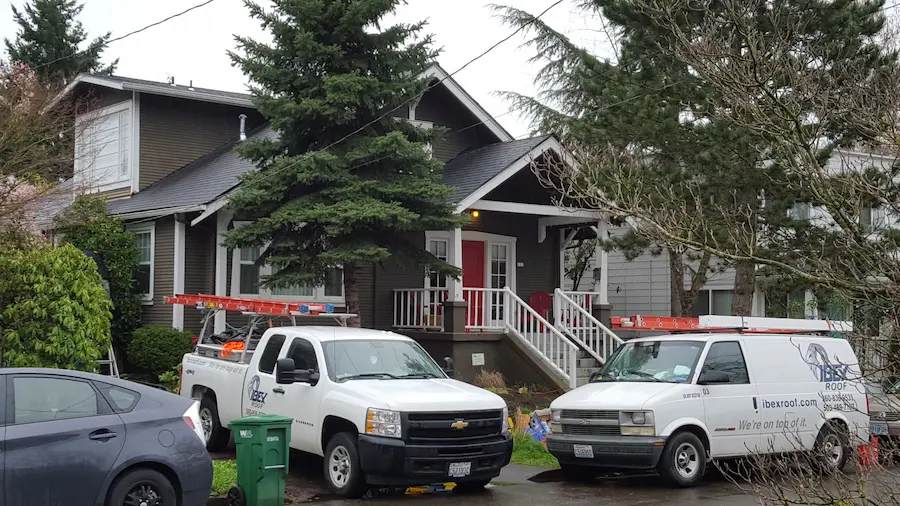 When you choose IBEX Roof for your roof moss removal needs in Portland, you can expect:
Experience
We have years of experience removing moss from roofs in the Portland area. Our team has the expertise to identify the type of moss growing on your roof and the best approach to remove it safely and effectively.
Quality Services
We use the latest techniques and tools to remove moss from your roof while ensuring that your roof remains undamaged. Our services are designed to provide you with the best value for your money.
Professionalism
We take pride in our work and are committed to providing you with excellent customer service. Our team is professional, courteous, and efficient.
Preventative Measures
In addition to removing moss from your roof, we can also provide preventative measures to help you avoid future moss growth. We can treat your roof with a moss inhibitor to prevent regrowth, and we can advise you on ways to keep your roof moss-free.
Contact Us Today
If you need professional roof moss removal services in Portland, contact IBEX Roof today. We are here to help you maintain your roof's integrity and ensure that it lasts for years to come. Contact us today to learn more about our services and to schedule an appointment.